Chocolate Filled Risotto Balls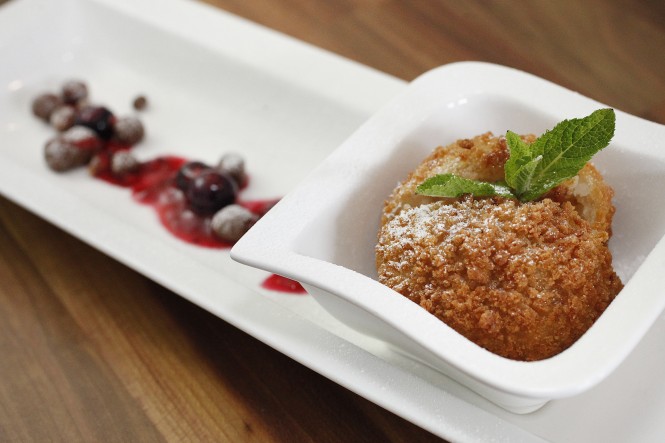 This is a delicious dessert with a crunchy shell and a gooey chocolate centre. Follow our 4-step recipe for results worth waiting for to impress your friends and family. This sweet delight gives a new twist to rice found in our kitchen cupboards!
Ingredients:
For the Risotto (Step 1)
2 cups of Arborio rice (dried)
2 ½ cups of water
Pinch of salt
150g butter
For the cream (Step 2)
2 cups of milk
2 cups of white sugar
2 vanilla pods
Sprinkle of ground cinnamon
Filling
300g of chocolate sauce (Step 3)
For the cooking (Step 4)
Vegetable Oil for deep frying
200g Breadcrumbs
200g Plain flour
200g Water
Plain flour for dipping
Icing sugar for dusting
On the side
Vanilla ice-cream
Fresh fruit
Cooking Method:
Step 1 Making the Risotto Mix
Place the water and butter into a saucepan and bring to the boil then add a pinch of salt.
Add the dried Arborio rice to the pan and slowly simmer, stirring occasionally until it absorbs most of the water and butter. This should take around 15 minutes.
Step 2 Adding cream to Risotto Mix
In a separate saucepan, place all the milk and 2 slices of the seeded vanilla pods over a low heat. Add some ground cinnamon to flavour.
Bring slowly to the boil and drain the liquid through a sieve, discarding the used vanilla pods.
Now add the liquid to the rice pan and mix together over a low heat for a couple of minutes until the risotto thickens nicely.
Turn out the mixture onto a baking sheet spreading flat with a spoon around 2.5 cm in depth.
Refrigerate the mixture for 2 hours.
Step 3 Rolling and Filling of Risotto Balls
Bring the mixture on the baking sheet out of the refrigerator.
Cut into 5cm squares, enough to fill your palm.
Flatten down and add a small dollop of the chocolate sauce to the centre of the mixture. With your other hand create a ball shape, enveloping the chocolate sauce with enough filling to ensure no leaks.
Freeze the ball mixtures on a baking sheet for 1 hour.
Step 4 Coating and Frying the Risotto Balls
This method is called pane where food is dipped and rolled in breadcrumbs before cooking. Place the flour and water in a bowl and mix to create a batter for the risotto balls. Then have 3 bowls lined up for dipping each ball into plain dry flour, next the batter and finally the breadcrumbs before placing into the hot oil, deep frying for approximately 3 minutes. The balls should be golden and crispy before removing from the oil and placing on paper towel to drain for 1-2 minutes.
Transfer to serving dish and sprinkle with icing sugar and cut in half to enjoy the glorious chocolate centre.