Rustic Duck with Puy Lentils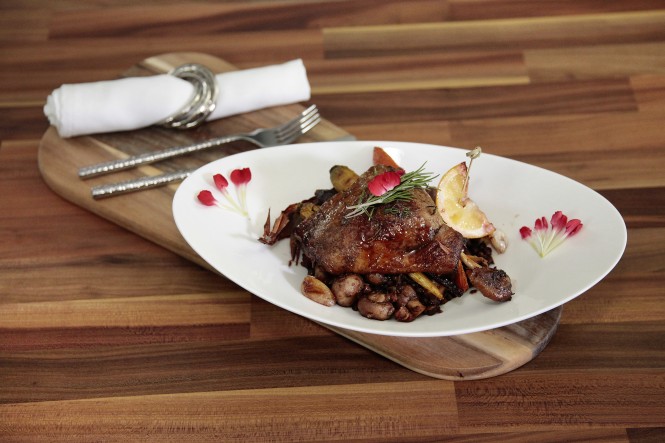 This is a hearty duck recipe made even more special with baby autumnal vegetables when in season.
Ingredients:
2 packs of microwaveable puy lentils
2 duck legs
60g butter
120g bacon lardons
1 banana shallot (scallion)
Rainbow carrots
2 garlic cloves
2 tablespoons flour
1 measure red wine
250ml water
1 tablespoon tomato puree
Salt and freshly ground black pepper
1 tablespoon dried thyme
4 tablespoons fresh parsley chopped
1 punnet baby chestnut mushrooms
Cooking method:
Place the lemon, whole garlic, rosemary, red wine and chicken stock with a little butter into a roasting pan. Add the duck legs and roast for 30 minutes at 180 degrees until cooked.
Remove the duck from the roasting pan and keep warm. Add the rainbow carrots, shallot wedges and garlic to the roasting juices and cook for a further 20 minutes in a hot oven.
On the hob pour a little oil into a large pan, add the bacon lardoons and baby chestnut mushrooms and fry for 10 minutes.
Add the flour, water, dried thyme and tomato puree and season to taste. Stir in the pre-cooked puy lentils and add a splash of red wine to soak up all the flavours for 5 minutes.
To serve, layer the lentil mix on a serving plate first, followed by the roasted autumnal vegetables. Add the duck leg on the top and add fresh rosemary to taste.
Serving Suggestion:
For extra flavour squeeze the cooked lemon and reduced red wine from the roasting dish over the duck when serving.