Simple No Fuss Sushi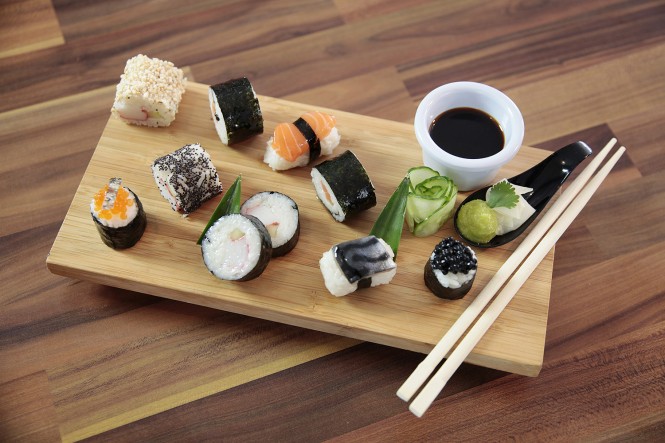 An impressive looking canapé or starter to wow your guests with your artistic flare! Use this recipe as a guide but feel free to add as much or as little of the flavourings for your preference.
Ingredients:
For the sushi
1 pouch of Microwaveable Jasmine rice (available at most supermarkets)
Fresh fish of your choice
or cooked fish or vegetables depending on dietary requirements
Mirin (10ml)
Rice wine vinegar (20ml)
Nori seaweed
Poppy or toasted sesame seeds
For the dip
Light soy sauce (100ml)
Fresh ginger (5g)
Red chilli (1/2 chilli with seeds)
Fresh coriander (5g)
Method:
For this recipe it is best to prepare the ingredients first so they are ready to assemble into your sushi.
Microwave the Jasmine rice as per the pack instructions.
Add the rice to a bowl and mix in the mirin and vinegar until the rice is well combined. Take out the nori and lay it shiny side down on a sushi mat or clingfilm laid flat. Dip your hands in cold water and lightly wet the seaweed.
Place enough rice onto the seaweed to cover half of the seaweed once pressed flat. Place thin strips of the chosen fish and or vegetable filling then lift up the mat so the rice covers the filling. Roll as tight as possible rolling up the remaining seaweed with the mat, this is known as a futomaki.
If you want to omit the seaweed and to vary your sushi, roll ingredients using the mat then dip into the seeds to coat the outside.
Place in the fridge until needed.
For the dip, finely cut the ginger, chilli and coriander and add to the soy sauce.
Serving Suggestions:
Cut the sushi into portions, arrange with the dip and garnish with chopsticks. Perfect with traditional Sake or a cold Japanese beer.
Tip: Wet hands to make the rice easier to handle.