Spicy Mexican Chicken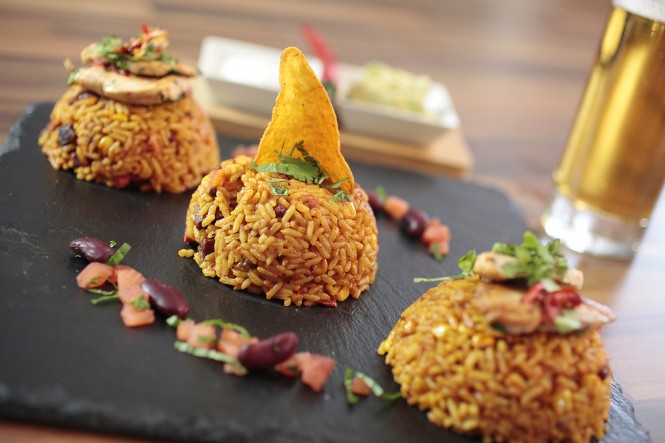 A tasty favourite with a spicy punch! The ingredients are available year round and are perfect for those counting the calories without compromising on flavour.
Ingredients:
For the Chicken
1 pouch of spicy Mexican Microwaveable Rice (available at most supermarkets)
1 Chicken Breast
2 cloves of garlic, crushed
1 small stem of ginger, sliced
1 small tin of tomatoes
Olive Oil
1 lime quartered
Fresh coriander
On the side:
Fresh Guacamole
Crème Fraiche
Cooking Method:
Slice chicken into 5mm slices, add to pan with olive oil on a medium heat. Sear chicken until lightly golden. Add crushed garlic and sliced ginger, cook for 5 minutes until slightly caramelised. Add the chopped tomatoes to deglaze the pan.
Microwave the spicy Mexican rice as per the instructions, add the rice to the pan and mix well.
Press the chicken and rice into rice bowls, empty onto a serving plate and squeeze the fresh lime over the rice and sprinkle over the chopped coriander.
To serve, place some guacamole and a generous helping of crème fraiche into ramekins to the side.
Serving Suggestions:
Why not crush some lime and coriander flavoured Tortilla chips and sprinkle over the top for some extra crunch. Perfect to drink with a chilled Mexican beer with a fresh lime.
Tip: If you love the kick of a good chilli do not remove the seeds when dicing the chilli.