Teriyaki Pulled Pork & Basmati Wild Rice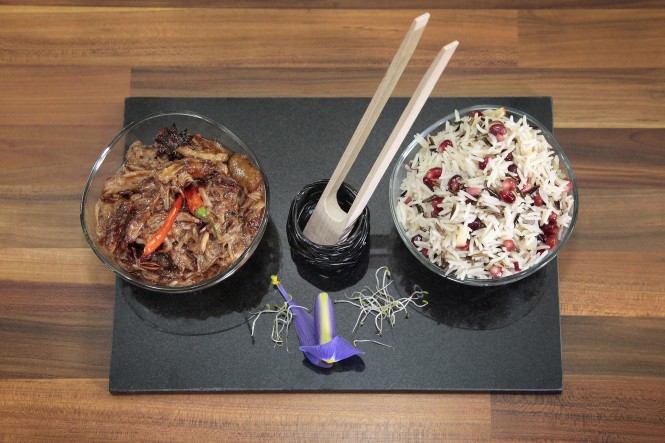 Spice pulled pork on a bed of basmati and wild rice jewelled with pomegranate and red apple with an Asian inspired jus.
Ingredients:
1 pack of microwaveable basmati and wild rice
Pork
½ higher-welfare pork shoulder, slow cooked yourself or buy a precooked sous-vide pack found in most supermarkets. (Sous-vide is a method of cooking for food that is vacuum-sealed in a plastic pouch that is placed in a water bath or steam environment)
Olive oil
2 heaped teaspoons smoked paprika, plus extra for sprinkling
½ bunch of fresh mint (for serving)
Optional heat of sliced fresh ginger and chilli
Teriyaki Sauce
¼ cup soy sauce
1 cup water
½ teaspoon ground ginger
¼ teaspoon garlic powder
5 tablespoons packed brown sugar
1-2 tablespoons honey
2 tablespoons cornstarch
¼ cup cold water
Cooking Method:
Teriyaki Sauce
Make this sauce ahead by mixing everything, except the cornstarch and ¼ cup of water, in a saucepan and begin heating.
Mix the cornstarch and cold water in a cup to dissolve, then add to the saucepan.
Heat until the sauce thickens to a sticky consistency, adding more water if its over-thickens at any point. If time is tight, a good quality teriyaki sauce can be bought instead.
Pork
Drop the sous-vide meat pack into a bain marie or a large pan of water on the hob for 10 minutes until the meat is heated through.
Remove the pack from the pan, open the bag and drain the liquid from the meat.
Using two forks shred the meat roughly.
Place the meat into a roasting pan, with 2 star anise for added flavour.
Cover the shredded meat in the teriyaki sauce, mixing through well so it moistens the meat well. Add the smoked paprika.
Place in a pre-heated oven (140 degrees) for 10 minutes to heat the mixture thoroughly.
To make an extra topping for the shredded pork, slice the chillies and ginger and fry gently in a little olive oil for a few minutes.
Microwave the basmati and wild rice pack as per the instructions.
Add the pomegranate, chopped apple and sliced spring onions to the rice.
To serve place a portion of the pulled pork in one bowl with an eye-pleasing bowl of the jewelled rice by its side.