Viking Bread Canapés with Chantilly Cream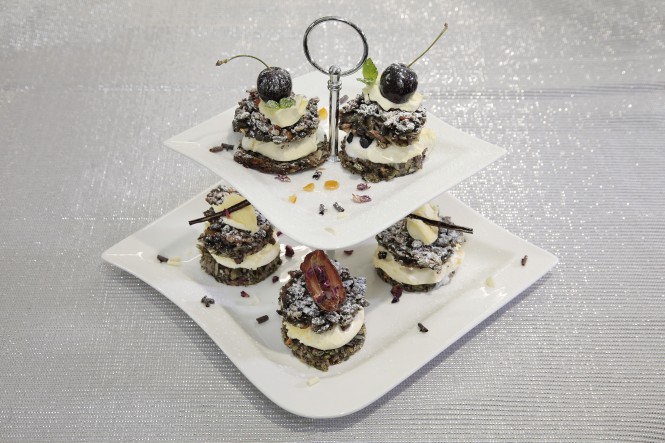 This authentic Viking bread recipe is a perfect healthy base for your party canapés. Here we top with Christmas flavours ready for the holiday party season!
Ingredients:
Bread mixture:
500g of mixed seeds (raw)
50g olive oil
4 eggs
pinch of salt
1 pack microwavable mixed grains
Chantilly Cream:
200g whipping cream
100g icing sugar
1 teaspoon of vanilla powder or extract
Coconut Oil
Lemon and orange candied peel
Sliced glace cherries
Sultanas or dried fruit of your choice
Chocolate chips or curls
Fresh mint to garnish
Cooking Method:
Combine all the bread ingredients into a mixing bowl and stir until the ingredients bind together.
Grease a bread tin with a little coconut oil and add the mixture, pressing down lightly to fill the corners.
Cook for 1 hour at 160 degrees
Remove from the oven and leave to cool.
Cut the mixture into 1 cm slices, place on a worktop and then cut out small discs from each slice and set onto a plate or tray ready to layer with cream.
Whip together the Chantilly cream ingredients until it stiffens enough to sit on top of the canapé bases.
Layer one disc with Chantilly cream and some fruit then place another disc over it and dust with icing sugar. Dollop more cream on top and add your choice of the fruit decorations, chocolate chips, sliced glace cherries and sultanas. Each one can be its own masterpiece!
Serving Suggestion:
Arrange on a cake stand or silver platters to make into a party showpiece.