Warm Supergrain Salad with Chicken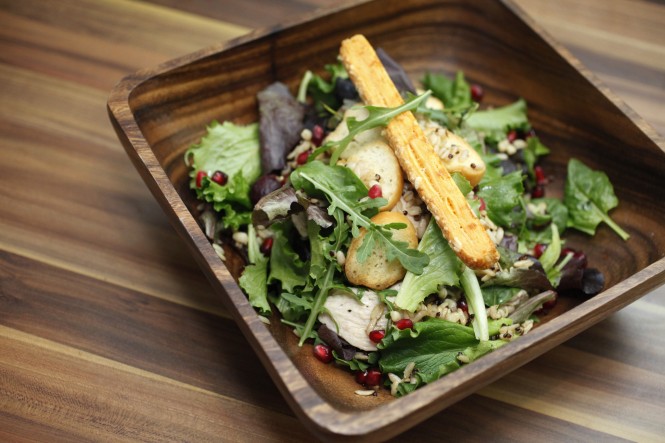 This layered salad allows you to add your favourite salad ingredients with warm lean chicken and vine tomatoes with the support of fabulous wholegrains. No need for the health-conscious to compromise on flavour here!
Ingredients:
1 pouch of microwavable supergrains including wholegrain, quinoa and pearl barley (available at most supermarkets)
2 skinless chicken breasts
1 pack of vine tomatoes
1 tablespoon Olive oil
Sea salt
Black pepper
Pinch of cumin seeds
Pinch of fennel seeds
2 sprigs of fresh thyme
1 bag of mixed salad leaves
1 pack of baby beets
1 pack of fresh pomegranates
1 pack of French bread croutons
Cooking Method:
Place the vine tomatoes in a roasting tray, drizzle over the olive oil and season with the salt and pepper. Roast in a moderate pre-heated oven for 10 minutes.
Slice the chicken breasts and season with salt and pepper.
Place olive oil in a frying pan. Place the chicken in the oil and pan fry lightly for 7 minutes or until thoroughly cooked.
Add the cumin and fennel seeds to the pan and cook for 2 more minutes. Add the fresh thyme and cook for 1 more minute being careful not to overcook the seeds.
Meanwhile, follow the pack instructions for the microwavable grains pack, add to the frying pan and toss the rice, chicken and seeds together.
Remove the pan from the heat.
Layer the salad leaves, baby beets, chicken and grains a couple of times then add the pomegranates and croutons to the top layer.
Place the roasted vine tomatoes on top of the salad just before serving for a warm salad packed with fibre and flavour.
Serving Suggestion: Add cheese straws to give an extra crunchy garnish.