Wholegrain Paella, Squash & Seafood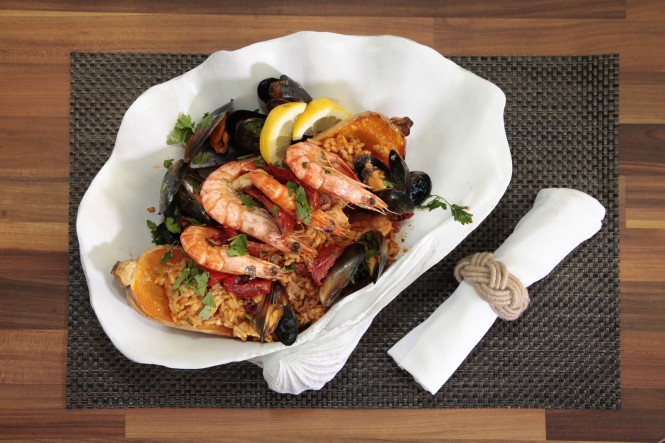 A true fusion feast of butternut squash loaded with authentic seafood and chorizo paella, topped with paprika dusted shellfish.
Ingredients:
Whole butternut squash, unpeeled, deseeded, cut in half
2 packs of microwaveable wholegrain rice packs
2 cloves of garlic
50g butter
Himalayan sea salt
Black peppercorns
1 onion
½ a bunch of fresh flat-leaf parsley (approx 15g)
70g quality chorizo
2 free-range chicken thighs, skin off, bone out
Olive oil
1 teaspoon sweet smoked paprika
1 red pepper
1 tablespoon tomato puree
1 organic chicken stock cube
Shell on king prawns
Shell on mussels
200g frozen peeled cooked prawns (sustainable sources)
1 lemon
Cooking Method:
Start the paella by heating some olive oil in a large pan, adding the chicken and chorizo sausage with the onion, garlic, and red pepper and fry over a moderate heat for a few minutes. When the meat begins to brown add the cooked prawns, tomato puree and chicken stock and continue to stir. When the ingredients have softened add 2 packs of the wholegrain rice packs and keep cooking until the stock is absorbed into the rice and the dish takes on a paella consistency.
In a deep pot, pour in a little chicken stock and add the fresh seafood. Cover and cook until the mussels have opened and the king prawns have cooked through. Remove the lid and add the fresh parsley and lemon towards the end of cooking.
Next, prepare to stuff the butternut squash halves with the paella mixture. Transfer to your serving dish and top each packed half with a handful of the steamed shellfish. To finish add more fresh parsley and a shy squeeze of lemon.
Serving Suggestion:
To intensify the flavour, add saffron and sundried tomatoes to the paella.